COVID shut down schools, learning centers, teacher training programs. But it cannot lock down minds.
At the Deenabandhu Teacher Resource Center in Chamarajanagara, Ketan and Bharat had an idea. A telescope cost Rs. 6000 to 7000 in the market. Unaffordable by most. From the various Science programs run by Deenabandhu they had a good understanding of optics. Why not create their own telescope?
And so, with PVC pipes, a small locally made wooden stand, and two lenses they purchased they created their own telescope – for a mere Rs. 500.
Deenabandhu has been working hard to improve the teaching of Science in rural government schools in Chamarajanagara district, so that children and teachers can understand the world around them without fear and superstition.  This has created the scientific temperament that enables people to say, "Yes, we understand this, and we can create this."   On their own.
Every village school can have one.   Children can be transported from their rural villages to the moons of Jupiter.
Deenabandhu conducts workshops for Science teachers in rural government schools.   Physical meetings are not possible, so teachers are taught in virtual meetings on how to create these telescopes.
The government school teachers are excited, "We didn't know we could create a telescope by ourselves!"     The fact that they can understand the internals of a telescope and create one on their own is empowering.   Prajavani (the hugely popular Kannada daily) picked up the story.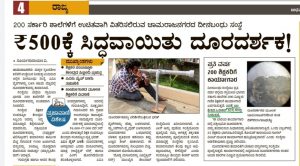 This is how we take Science to rural areas.   Where teachers, students, and youth develop a deep understanding of Science and start solving problems.   Where they don't depend on outside ideas but create their own.  We gratefully acknowledge Oracle's support for this project.