As the year draws to a close, we look at two new projects we started this year. On this day of Thanksgiving, we thank you, our donors. Thank you for helping a child a read a book and thank you for opening doors for a girl.
Library in the village of Kattu Sithamoor
Like volunteers Melli, Sadhana and Gershon in Asha Boston, Paripooranam from Asha Chennai is a strong believer in the power of libraries. In the power of books to open up a child's mind to the world. When the villagers of the remote village of Kattu Sithamoor approached Pari to create a library, she reached out to Gershon and Asha Boston. With $1767 from Asha Boston and volunteer labor by the villagers the library was inaugurated in February 2019. A government library building had been lying empty and unused; the village panchayat gave permission for its use as a community library. The villagers repaired and whitewashed the building and Gershon visited for three months to help get the library off the ground and choose the initial collection of books. He implemented a scheme where any child who reads seven books in the library can take a book home. In Paripooranam's words, "it has become a big hit!" We are thrilled.
<a id="kadam"></a>
Empowering girls at the Kadam Education Initiative
Center of Development is a new project partner we began working with in 2019. This partner runs the Kadam Education Initiative, a center for girls in Ahmedabad and surrounding villages who for various reasons do not have support from their families to continue their education – parents who have passed away, extreme poverty, community pressure. The center provides a space for the girl to feel empowered, develop confidence to pursue their goals, and equip themselves with skills like working with computers, speaking English, and effective communication. And most importantly, preventing and countering abuse. Each Kadam member works to create awareness about Kadam amongst five girls in a similar situation in her neighborhood. This creates a strong sense of community among the girls. As Asha Boston volunteer Atman says, "It was a humbling and inspiring experience to meet the Kadam team. I was impressed with the amount of work Kadam has done, particularly with the support and constant involvement of the girls themselves."
We have seen several success stories of girls, who have after spending time at the center have been able to withstand community pressure, continue their education, and move on to get jobs.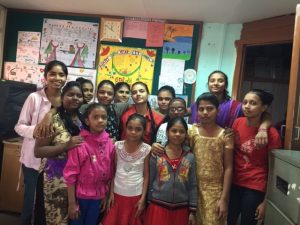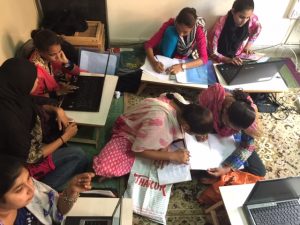 A few of the girls                                                                                                   Computer training activities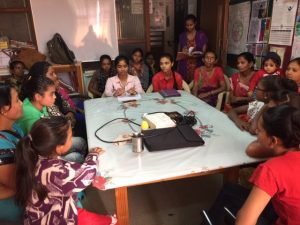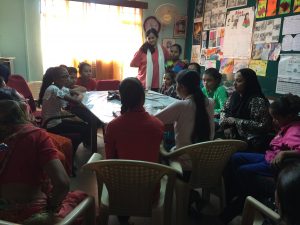 Right to Education activities planning                                                            Understanding the self
We share how Kadam's work impacted one of the girls. She came from a poor family. Her father had passed away when she was 6 and she had been harassed and forced by her relatives into an engagement with a boy of their choice. She had to drop out of school after class XI, and felt, "I have no say in my life anymore." With the help of gender equality training at Kadam and the counselor she could talk to at Kadam she was able to break off the engagement in spite of the huge disturbance it created in her family. "The gender training helped me understand that I had rights as a girl."
"At Kadam I make a few strong decisions regarding my future – I would complete my higher secondary education through NIOS, and develop skills that would help me get a job and support my family. Today I am working at an NGO and making Rs. 8000 a month and I am so proud.
I cannot find words to say how valuable the education I received from Kadam as been. I would have been languishing as a domestic slave somewhere; but today I am in charge of myself and my future. I always share this story with my dear young Kadam sisters. I tell them what I learned in one sentence: "It is one's own struggle. One has to become strong, take a stand and fight one's own battle:"