As the year 2016 draws to a close, we at Asha Boston want to say: THANK YOU! Without the generous support of our donors, we would not be able to accomplish our mission of "Access to Education" among our projects in India. We present a brief update of some of the projects that your donations have supported this year.
Mobile Science Van
HD Kote Taluk, Mysuru District, Karnataka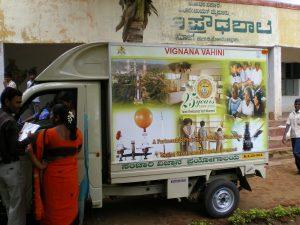 Progress at Mullur High School
(one among 20 high schools in the project)
"Can I have one to read, please?" this girl asks, when old newspapers are distributed in a class on reading material outside of their textbooks.  Before the Science Van project high schools had no Science labs and no libraries, and learning was limited to only textbooks.  Now the Science teacher is proud of the lab he helped create at this school, and we are starting an initiative to promote reading.  Children are eager.  All they need is books.  And a system their teachers can thrive in, so that they can better support them.
(One among 50+ schools in the project)
Moleyur school, with 68 students in classes I to VII, has only one teacher.  But, what a teacher!  She has to teach all seven classes, take care of headmistress' administrative duties, buy groceries and supervise the kitchen for the midday meals.  Taking the one direct bus from Sargur to Moleyur every morning, carrying red chillies, school supplies, or whatever is needed for the day, she does it all at her school.
With the Oracle grant, we are able to expand the Mobile Science Van project to single teacher schools such as this.  Unsung heroes like her need all the help and encouragement they can get.
Seed Narpanigal
Karumbalai, Madurai, Tamil Nadu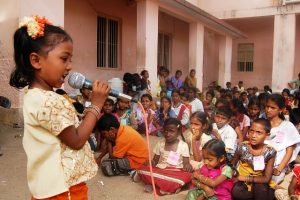 At the Seed Narpanigal study center, the girls gain something precious – confidence and strength to speak their mind.  These are essential traits to explore options not easily available in the male-dominated society they live in.  Crossing more academic milestones, pursuing a career, financial independence – all are possibilities now.  With the activities and exposure at the center they gain some power to shape their life's trajectories.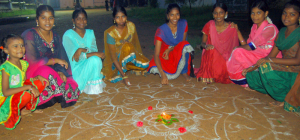 They act, play, dance, write at the center, blossoming as individuals and moving outside the box society puts them in. They can better deal with societal problems like alcoholism and control by men in their families.  A recent achievement is a magazine focused on writings by girls in Karumbalai.
Sahanivasa
Chittoor District, Andhra Pradesh
The poorest students, mostly from dalit and tribal communities, attend government schools.  The project provides supplementary academic support to these students in the form of before and after school tuition centers, making all the difference in the class X exams.   Instead of failing and facing a life of limited options, they pass the exams and can explore opportunities beyond school. Education programs need community support to succeed, and Sahanivasa covers that too: they create awareness on the importance of education in the communities and mobilize parent committees to ensure continued attendance in schools.  As the project continues we are heartened that previous graduates come back and show current students how education has helped them, and discuss road maps for the future.
Viveka Tribal Center for Learning (VTCL)
Hosahalli, HD Kote taluk, Mysuru District, Karnataka
Children learn in a classroom designed to be open to nature.  A gentle breeze wafts in from the forest outside as they learn the alphabet, numbers, arithmetic.  They work in groups, children ahead in learning helping others.  Helping and sharing come naturally to these children, following the culture of tribal societies in the area.  Many are talented artists.
Bhagwati Sarla Paliwal Education Society (BSPES)
Jattari, Aligarh District, Uttar Pradesh
In an area where only 40% of the girls are educated, compared to about 70% in the rest of India, BSPES implements programs in the areas of value based education for rural girls, and wealth creation through Employment for girls. Thanks not only to the education, but also the support, guidance and empowerment, Bandana Kumari was selected by the American Embassy's Community College Initiative Program and is now pursuing studies in Hospitality and Tourism Management in Orlando, Florida. She says, "…My life is going to change because of my Organization".  Surely a sign that beneficiaries like her will keep the effort going.
Wishing you a joyous holiday season and a happy 2017!  We look forward to your continued support.